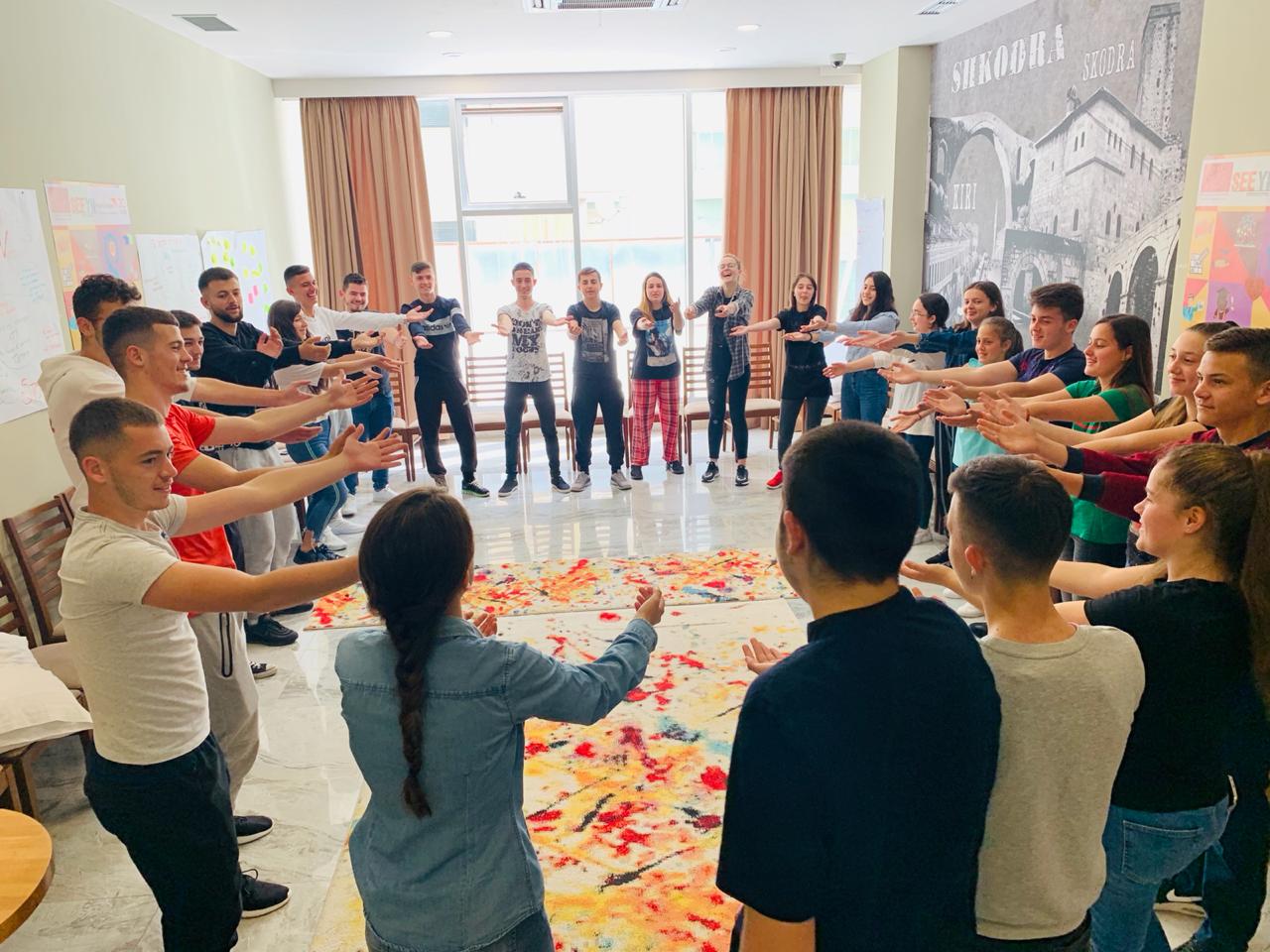 FAIR PLAY
"Fair Play – Creative Learning for Human Rights" was a 9 months project implemented focused on the promotion of human rights among young people, with the use of board games as a creative and innovative educational tool. Implemented in 5 towns of Albania (Tirana, Durres, Fushe-Kruje, Gramsh and Maliq), it reached a direct engagement of 610 young people using a cross sectorial approach in cooperation with 4 high schools, teachers, young people, civil society actors and youth workers.
This project aimed to assist young people, civil society organizations (CSOs) and institutions in addressing human rights issues through education and creative tools in a long-term perspective. The project promotes human rights education (HRE) and increases competences of young people, youth workers/leaders/activists to develop educational board games using innovation tool as gamifying with young people from marginalized target groups. Peer to peer approach was integrated while youth themselves contributed in creating, testing and using the educational games. The project's focus was to raise awareness on importance of protection of human rights in the local community and for the first time brought gamification element in the education sphere in Albania. This unique project, introduced educational games into the formal educational setting of high schools, where through the non-formal learning approach, topics of human rights which might be difficult or taboo to discuss, were served in a playful mode.
Participants involved in the project were pupils aged 16-18 years old from four high schools of 4 different towns and young people 16-25 years old from the BBA activists and volunteers' group. The games produced as final products, target youth aged 15-20 years old, while they can also be used by older ages as well.
Fair Play was sub-graded  by World Vision Albania and Kosovo and SEEYN in the frame of the call "Youth for Human Rights in Albania", financed by European Commission.
Activities:
Three days training on human rights with participants 28 youngsters, coming from 4 high schools and BBA activists and volunteers. The main aim of the training was to increase the participants' knowledge, skills and attitudes in human rights and human rights education
Game LAB training included the same 28 young and the main aim of the training was to introduce young people to educational game design and improve their skills in game production for human rights education. 5 different games were designed in the training, all initiated and led by the youngsters themselves and guided by the expert trainers of BBA.
Community Testing -13 testing workshops (2 per each school and 3 in Tirana) were organized to test the games with direct participation of  575 young people aged 16-25 (217 F and 354 F).
Expert review and Production – all the feedback received in the community testing was further integrated in making the games more functional in all aspects. Our external expert and staff reviewed and created the final versions of the board games which were then sent for design and print.
Fair Play Day- The final game presentation event was organized in Tirana on 10 December the International Day of Human Rights. More than 220 participants were introduced and played the final educational games. Representatives of civil society, young people aged 16-25 from different schools of Tirana, teachers, representatives of Tirana Municipality and representatives from the Ministry of Education Sports and Youth took part in the event.
GAMES
Circle of Rights
This educational game aims to provide information for Universal Declaration of Human Rights, boost the discussions and critical thinking of participants, foster reflection on human rights and their understanding in a creative way.
Number of players: 4 groups (maximum 4 persons in each group) and one facilitator
Age: 12 +
Time: 45 minutes
Rights in my City
This educational game aims to provide information about institutions which protect the human rights in Albania and increase empathy and understanding about human rights and the instruments for their protection.
The number of players: 3 groups, (maximum 4 players for each group) and one facilitator.
Age: 12+
Time required: 45 minutes
Take a stand
This educational game aims to foster critical thinking and debate skills for participants. It helps participants made a distinction among political, civic, social and economic rights and help participants reflect in sensitive issues related with human rights.
The number of players: 10 – 24 players and one facilitator
Age: 14+
Time required: 90 minutes (depends on number of participants)
Beyond the barrier
This educational game aims to provide information about Convention on Rights of the Child and foster reflection to better understand children rights.
The number of players: 2-4 persons and one facilitator
Age: 12+
Time required: 45 minutes
Photos: