Beyond Barriers Publications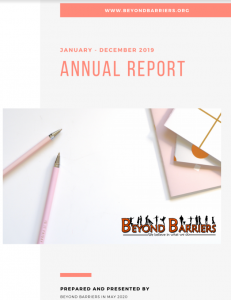 JANUARY-DECEMBER 2019 ANNUAL REPORT - PUBLISHED MAY 2020
This our Annual Report for 2019. Looking back at it, it's a lot of work done, thousands of youth, CSOs and institutions that we have supported by our services, trainings, info sessions and assitance. A big THANK YOU to EVERY COLLABORATOR, DONOR, CSO, INSTITUTION, YOUNG PEOPLE and other stakeholders for all the support and collaboration during 2019.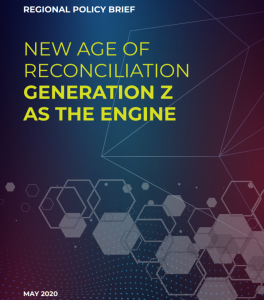 REGIONAL POLICY BRIEF NEW AGE OF RECONCILIATION GENERATION Z AS THE ENGINE- May 2020
This policy Brief is a product of the Erasmus+ funded project "Walking the path of reconciliation- empowering communities for a peaceful society, implemented by BBA and Partners during 2019-2021.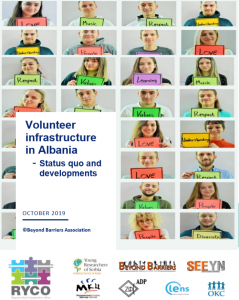 Volunteer infrastructure in Albania -Status quo and developments- October 2019
This is a brief report that reflects the engagement of volunteers in Albanian civil society organisations and the knowledge that CSOs have on the topic, in relation to infrastructure and legal framework of volunteering and volunteer work. 58 organisations of civil society in Albania have responded to the questionnaire and the data is analysed in the report.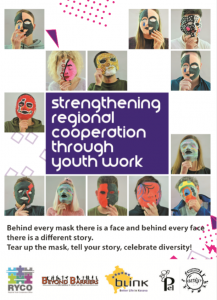 Strengthening regional cooperation through youth work February 2019
This is a project brochure showcasing the implementation of Swapping Cultures Erasing Borders project that BBA implemented during 2018-2019 with the financial support of RYCO.​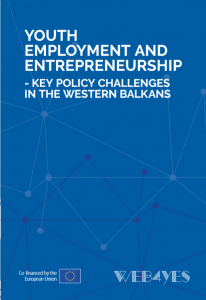 Youth Employment and Entrepreneurship – Key Policy Challenges in the Western Balkans- October 2018
It is a collection of four regional policy briefs covering important aspects of employment and entrepreneurship of young people: youth employability, active labour market measures for youth, enabling environment for youth entrepreneurship and lifelong entrepreneurial learning. The publication comes in Albanian and English language. While a link to all WB 6 languages can be found here.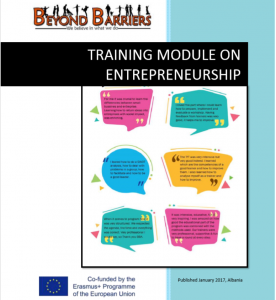 TRAINING MODULE ON ENTREPRENEURSHIP – January 2017
This publication contains 8 workshops and exercises prepared and tested by the participants of the Training for Trainers, which was held in Durres, Albania from 1-9 November 2016. 5 other workshops and exercises in the Module are proposed by the trainers involved in the project, which are experienced in entrepreneurship education and non-formal learning.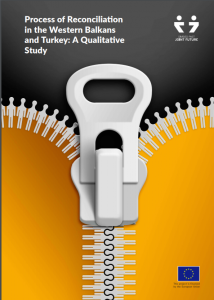 Process of Reconciliation in the Western Balkans and Turkey: A Qualitative Study -2017
This qualitative study analyses the attitudes and opinions of citizens, representatives of public, private and civil sector on peace building and the process of reconciliation as well as the role of civil sector in those processes in the mentioned countries. The surveys to compile the study have been conducted in Bosnia and Herzegovina, Montenegro, Serbia, Kosovo, North Macedonia, Albania and Turkey under the project "Divided Past – Joint Future".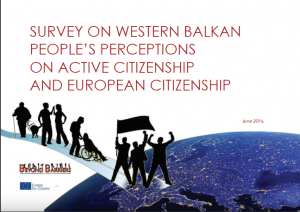 Survey on Western Balkan people's perception on active citizenship and European citizenship -June 2014
This is survey done in Albania, Serbia and North Macedonia to measure the perceptions of people towards the active citizenship and European citizenship. The data gathered portrays the knowledge of the citizens about the EU and its structures.