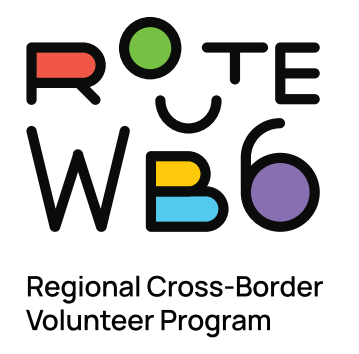 ROUTE WB6
ROUTE WB6 is called the newest initiative, where BBA is an implementing partner and will work for the next three years focusing on the topic of volunteering. This three-year project is led by the Tirana-based Regional Youth Cooperation Office-RYCO, and will be implemented by the South East European Youth Network from Bosnia and Herzegovina, Youth Cultural Center Bitola from Northern Macedonia, Young Researchers of Serbia from Serbia, KULT from from Bosnia and Herzegovina, ADP-ZID from Montenegro, NGO Lens from Kosovo * and Beyond Barriers from Albania. The project, is funded by the Norwegian Ministry of Foreign Affairs for a period of 3 years (2019-2021).
ROUTE WB6 aims to initiate and lead intercultural dialogue and regional cooperation in the Western Balkans towards a democratic and socio-economic development, using regional volunteering and voluntary exchanges as a powerful tool. Through the implementation of this project, the partnership consortium will use long-term and short-term volunteerism as a tool to contribute to reducing social and ethnic distances among young people in the region and also to promote European values ​​that lead us to reconciliation and coexistence in peace, stability and prosperity in the WB.
During these three years the project aims to meet the following objectives:
Strengthen the capacity of the National Voluntary Services in WB6 to advocate for volunteer policies at national and regional level in order to create an enabling environment for the development of volunteering as an effective tool that contributes to reconciliation and youth movement in the Western Balkans region.
To create the infrastructure for regional volunteerism and exchange of volunteers in WB by directly contributing to intercultural dialogue, reconciliation and peace in the region Support civil society organizations and WB youth in order to facilitate intercultural dialogue, youth movement and cross-border exchange in the region.
Activities:
During 2019 BBA has conducted a strategic analysis, identified institutional actors, networks and organizations which will be engaged actors in the implementation of this project.
Info Session – Reviving volunteering in Albania
BBA has implemented 5 info sessions in Tirana, Durres, Fushe Kruje and Maliq, to promote the concept of volunteering, values ​​and benefit of volunteer work, and legal framework. Through the 2019 advocacy campaign BBA sought to revive the  volunteering, re-explore the current situation of volunteering and solidarity values connected to it, inform citizens on the Law on Volunteering in Albania and also gather information from CSO-s and young people about their actual understanding and needs towards volunteering infrastructure and knowledge. 284 participants aged 15-25 years old, were beneficiaries of the info sessions.
Training- Values and benefits of Volunteering
In collaboration with National Youth Service under Ministry of Education Sports and Youth in Albania, we organized 2 trainings held in Vlora and Korca regional Youth Centres, where 75 youth activists and volunteers of the centres were introduced to values and benefits of volunteer work, volunteering infrastructure in the country, perspectives of the regional volunteer program that the project is developing and ways how to engage in meaningful volunteer work for better and more organized communities.
In house training to LENS – Management and establishment of local and national volunteer centers
From 28-30 October 2019, BBA shared their experience and knowledge on volunteering infrastructure by providing LENS as a project partner with a 3 days in-house training for 6 members of the staff. During this training the staff of LENS could get a deeper understanding on how to set up and run a volunteer service centre in local and national level, explored the internal capacities and the external factors that can help to establish such structure, explore the actual legal framework and got equipped with a set of information and resources to help them establish the structure as part of the project.
Survey: Volunteer infrastructure in Albania – Status quo and developments
In September-November BBA conducted an online survey on the volunteering status quo in Albania, with a questionnaire sent to several organizations throughout the country. The main objective of the survey was to gather data and information regarding the volunteer engagement in civil society organizations in Albania. The questionnaire targeted civil society organizations in Albania, specifically those working with young people but not only, and seeks to analyze their knowledge on volunteer programs, infrastructures and actual legal frameworks. The online questionnaire was sent to more than 3000 CSOs, using the public list published online by Agency for Support of Civil Society, where only 58 of them responded and were used for the analysing of the data.
Marking 5 December as the International Volunteer Day – How to boost volunteering?
The event was held in Tirana and postponed to 10 December due to the earthquake situation, while it gathered 24 organizations and institutions to further discuss the volunteering issue in the country. A panel discussion with the participation of key stakeholders such as the World Vision Albania and Kosovo, RYCO, National Youth Congress and national Employment Service, debated and shared their concerns related to the status of the volunteer legal infrastructure in Albania, the conditions for the law implementation, the challenges faced by the CSOs in order to implement and respect the law, and sought to give space to a discussion on how can we move further and how can we all engage to regulate and promote volunteering and bring it in the table as a useful tool for young people. The data of the survey from BBA were also presented and further gave way to the panel discussion of the guest speakers. This activity was organized with the collaboration of World Vision Albania and Kosovo.
Through the year BBA also took part in Partners meetings, while organizing the first one in Tirana, attending 3 others in Podgorica and Kosovo, where the Codex on volunteering was discussed and further prepared.
Photos